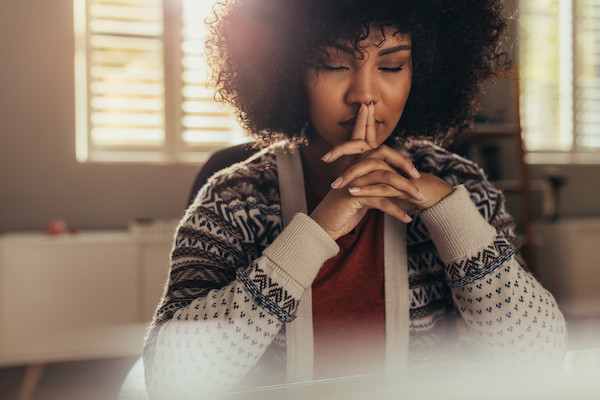 Devoting yourself to a cause you care about is typically a large investment of time and energy. But with eM Life's annual 1% challenge, you can make a difference for yourself and others in as little as 14 minutes a day just by practicing mindfulness.

Participation in this 30-day challenge begins January 3rd, 2022, and allows you to strengthen your mindfulness skills, earn rewards, and benefit the charity of your choice through The Connection!
How to Participate in the 1% Challenge
All you need is 14 minutes — just 1% of your day — to experience the benefits of mindfulness while making a positive impact in the world. We challenge you to develop a consistent mindfulness practice over the course of 30 days by participating in any of eM Life's live or on-demand content.
If you're up for the challenge, participation is easy. Simply create an account or log in and complete your first day by participating in 14 minutes of mindfulness between January 3rd – January 31st, such as a Mindful Daily, our live guided practice like Mindfulness at Work, or an on-demand session like Mindful Communication, and more.
Just make sure to complete 14 full minutes to count as your first day, which you can keep track of on a calendar that appears on your eM Life dashboard. You'll have 30 days from your first day of activity to complete the challenge. Fun and exciting rewards can be earned at 10, 20, and 30 days of completion. The 10 and 20-day rewards can be earned after nonconsecutive days, but if you complete 30 days in a row, you'll earn all three:
10 days: 2022 Mindful Daily Practice Guide
20 days: Spa Space gift
30 days: One-on-one mindful mentoring session + 14 trees planted in your honor!
Double Your Impact with The Connection
As you register for the 1% Challenge, you'll be prompted to either join or create a Connection if you aren't part of one already. Each Connection supports a specific charity such as Books for Africa and Mental Health America. This year's featured Connection is To Write Love on Her Arms.
During your 1% Challenge, we'll double your minutes of mindfulness you earn each day – for example, when you participate in a 14-minute session, we'll match those minutes, for a total of 28. Your minutes will be reflected in your Connection and your account each day you participate. And once the challenge is over, you'll be able to continue to make an impact all year round with The Connection!
Create Mindful Momentum
Creating a new, healthy habit takes time, and the 1% Challenge can be a great way to build your mind-body connection and make time for yourself. On average, it takes about 66 days to really make a new habit stick, so keep up your mindful momentum even after this 30-day challenge is over and feel the difference your mindfulness skills make in your everyday life.
The Benefits of Practicing Mindfulness
Mindfulness is about being aware of the present moment without judgment. Mindfulness practice helps you develop the skills to make every moment matter with greater focus, creativity and purposeful decisions. Other benefits of mindfulness include:
Reduced blood pressure
Improved sleep
Increased focus
Enhanced self-compassion
Improved productivity
Reach your New Year's goals by participating in this year's 1% challenge. You're not only doing something good for you but others as well. We hope you'll join us starting on January 3rd!