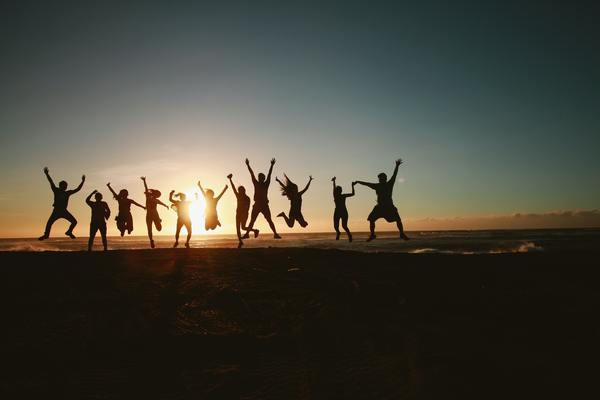 As human beings in a very busy "hustle culture," it's easy to go through life focused on achieving one goal after the next rather than living more fully and intentionally based on your values. I'd heard about the importance of living a values-based life and knew that it was something I should look into for my own personal fulfillment, but I didn't fully understand it until I recently took eMindful's Skills to Thrive in Anxious Times program.
The mindfulness teacher presented participants with a list of values. There were so many meaningful ones to choose from – openness, communication, connection, and more. We were asked to choose five values from the list that reflected what we wanted to manifest in our own lives. "Values guide the way – keep them close," the teacher, and it all started to make sense.
Building Healthier Habits Through Values-Based Actions
We've all got unhealthy habits that we want to change. And at a time when we're living through an ongoing global pandemic and The Great Resignation in America's workforce, a lot of us are turning our attention inward and focusing on our own health – both physically and mentally.
If you've ever tried to create better habits for yourself then you know that unhealthy habits aren't a switch that you can just turn off. Healthier habits happen one step at a time, and this is where your values can make a difference. When you feel aligned with the changes you're making in your life, it makes a bigger difference.
When I sat down to focus on my personal values, I realized that connection and connecting with others was important to me. Although I work from home and live with my fiance and my mom, there are days when I am so distracted and busy that I don't spend quality time with them. Through creating healthier habits based on my values, I am now working on finding the time to check in more with the ones I love – even if just for a few mindful moments.
Strengthening Your Daily Practice with eMindful's One Percent Challenge
As we get closer to the new year and determine what we want to focus on and improve about ourselves in 2022, eMindful's One Percent Challenge is a great way to practice and enhance your mindfulness skills, and help you connect to a sense of purpose. Additionally, every minute of mindfulness that you practice during the challenge will be used to donate to multiple charities, and you can also earn great rewards along the way for your practice.
No matter how busy your schedule looks at the start of the new year, dedicating just 1% of your day – or 14 minutes – to developing your mindfulness skills can give you the building blocks you need to create healthier habits in your everyday life. 
Start your new year off with a renewed sense of purpose and a stronger connection to what truly matters by participating in eMindful's One Percent Challenge here.
Written by Becky Greiner