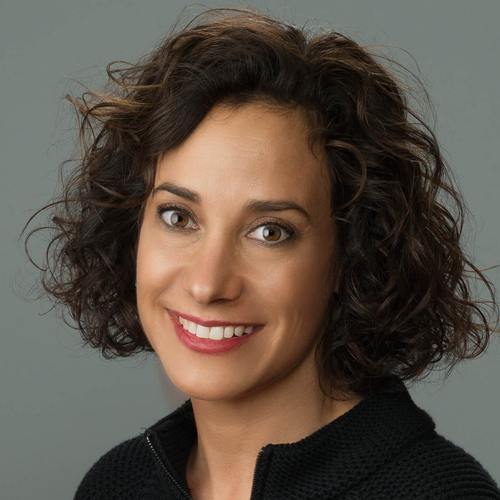 Before I begin any teacher interview, I do a perimeter check in my office to see if my two cats or dog are present. These three furry menaces are famous for being completely content one second and then demanding in/out of my office the next – especially if I'm about to sit down for an important meeting.
This morning there are none present…until I put on my headset and am about to join the virtual meeting room to meet eMindful teacher Ninette Hupp. I hear the loud investigative noises of my 84-pound Rhodesian Ridgeback mix and know that if I don't get up and let her in, she will charge the door in. Such is the life of a working dog mom, and to my surprise, this is also something that Ninette and I would connect on.
Q: How do you start your day?
"I prefer to start my day after 7 a.m., allowing myself to slowly wake into the day. Currently, I have a new puppy, so it's not such a slow start. Once he gets up, things increase in intensity fairly quickly."
I immediately launch into a barrage of questions that have nothing to do with mindfulness, and I learn all about Wags, the Beagle puppy.
"In my former life, I started a doggie daycare, bed and breakfast – yes, for the dogs – grooming and training business. This is my fourth Beagle mix, but he's one of the highest play-drive dogs I have ever seen. Not what I'd expect from the breed." Ninette says. "After going 16 years without a puppy, he is a colorful reminder of the energy of new life. Since I work online, I need my environment to be silent; although he loves his Zoomie time, so far he has been quiet for my mindfulness sessions."
Q: Where are you based out of and what's your favorite thing about it?
"Phoenix/Scottsdale Arizona, and I love the nature here. The sky is expansive, and the sunsets are phenomenal. Thunderstorms are amazing, and right now we are in the time of year temp-wise where it's just fantastic, which is why we endure 115-degree heat in the summer," she jokes.
"We also see bobcats, roadrunners, mountain lions, and other wildlife, and the mountains are stunningly different depending on how the sunlight hits them."
Q: How long have you been practicing mindfulness and how did that journey begin?
"Formally, about 12 years, but I have always been mindful in nature so probably since early childhood. Lakes, oceans, and even streams are something I have always enjoyed and been in awe of. I've felt a silent connection whenever I spend time with animals and particularly the parts of nature on our planet that have been undisturbed," she says.
Ninette explains that she was formally introduced to mindfulness in an unconventional place – a corporate networking event.
"Out of grad school, I was interested in corporate consulting, and I will never forget going to this organizational development network conference. I am dressed in a suit with heels – the whole nine yards. I can't remember what the session was called but we ended up lying down on our backs on the floor doing a body scan," she says. "It felt like such a strange and interesting experience to me; I had never imagined this activity being part of an ODN conference. Admittedly, at times I had one eye open, to see if people were doing this and to try to figure how long it was going to last. The curiosity was really planted then. It's funny because years later, at one of my early extended residential Vipassana retreats, I remember taking a peek with one eye in amazement of the 100-plus people sharing in the same heart-felt shared intention while doing a 45-minute loving-kindness practice."
Q: What eM Life programs are you teaching right now?
"Right now, I am guiding the Mindful Dailies. It's such a treat to have a snack of a topic and gain awareness of how it applies to our everyday lives. It's almost comical how often the topic of the day is spot-on relevant to me personally. The beauty is how such brief practices can make such a significant impact on people's lives," she says.
"The participants say hello and goodbye to new and familiar names. It's a beautifully sweet way to connect with ourselves and others in a busy world."
Q: What's your favorite fact about yourself?
"Well, one that comes to mind is that on the second or third date with the man who became my husband, we went out with his friends and colleagues. He said, 'I want you to know; you are going to meet a Nobel prize winner of Economics tonight. He hasn't won yet, but he will." I was thinking 'holy cow! What am I going to say?" Ironically, the winner-to-be and I ended up sitting next to each other.
Ninette then tells the story of how her dinner companion did win the Nobel prize for Economics ten years later. She and her husband got up at 4:15 am the day the prize was announced. She shared how she and her husband, who is also an economist, ended up spending the entire day with the winner – press conferences and all.
"We picked him up at his house early in the morning and said 'this is going to be a big day for you, we should get some breakfast,' and he wanted to eat at Denny's near campus," she says, laughing at the memory. "And I am sitting there eating toast thinking nobody else here knows who he is. I felt fortunate to know he is a real human being, endearing, brilliant, a little quirky like me, and one of our dearest friends," she says.
Q: What's your advice for people who are new to mindfulness or who are curious about it?
"Mindfulness can happen anywhere, anytime, and in any moment. It happens while listening to a bird, noticing the breath, tasting an apple, and undoubtedly, being with your dog. It happens right here, right now," she says. "There's no right way to do it and we are not going to master it. That's why we call it a practice."
Experience the playful spirit and lighthearted mindfulness teaching of Ninette Hupp and learn more about Wags the puppy in her Mindful Daily sessions.
Written by Becky Greiner