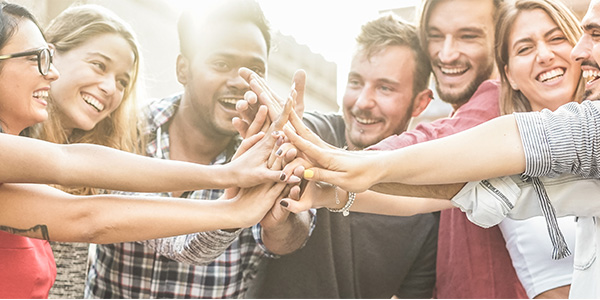 Do More with Mindfulness
Lose weight. Get organized. Learn a new hobby. These are a few of the most common New Year's resolutions that are made every year. But if your resolution for 2021 is to make a difference in the lives of r others, becoming more involved with charities that matter to you is a great way to start.
If self-care is something you want more of next year, then Vibe Tribes from eM Life is a great way to give back to a charity of your choice while also making time for yourself through mindfulness practice.
Explore Vibe Tribes by eM Life
It's one thing to feel passionate about a particular charity or organization by yourself, but coming together with others and "finding your tribe" can put more purpose behind contributing. Vibe Tribes not only helps you align with what matters to you, it also helps you put your passion into action.
Whether it's a 14-minute Mindful Daily or a live program, every minute of mindfulness you take for yourself also equals a donation to the charity, or Vibe Tribe of your choice. And if you don't see a tribe that aligns with your purpose you can create a new Vibe Tribe to add it! With Vibe Tribes, you can make a positive impact to individuals and families through:
Books for Africa
Veteran's PATH
To Write Love on Her Arms
Mental Health America
And more!
The Benefits of Giving to Charity
At a time when we're all feeling isolated and a lack of social connection due to the pandemic, joining a Vibe Tribe can help you regain a sense of community and shared purpose. Giving back to charity has major benefits for your mental health, including:
Significantly boosting your mood. Multiple studies have found that altruism creates a "helper's high" – that rush of serotonin and positive energy that we feel after we give back.
Strengthening your gratitude. Despite all the challenges and hardships of the year, there's still a lot to be grateful for, and giving back to others who do not have the same blessings as you can reinforce the areas of gratitude in your life.
Teaching children the value of generosity. Participating in Vibe Tribes doesn't have to be a solo action – teaching children mindfulness, gratitude, and altruism from a young age can show them that they can make a difference in the lives of others.
Encouraging friends and family to also participate. In addition to all of the other gifts you plan on giving this year, sharing your passion for giving with others can inspire them to do the same. Mindfulness practice is meant to be shared, and while quality time with friends and family may be limited right now, giving back through mindfulness is something you can all find time to do together, no matter where you are.
Make Every Moment Matter Next Year
Like any new healthy habit, developing a daily mindfulness practice takes time. 2021 is sure to bring change and uncertainty, but no matter what challenges lie ahead or how much time you can take for yourself, mindfulness is a safe space that you can always come back to.
Written by Becky Greiner