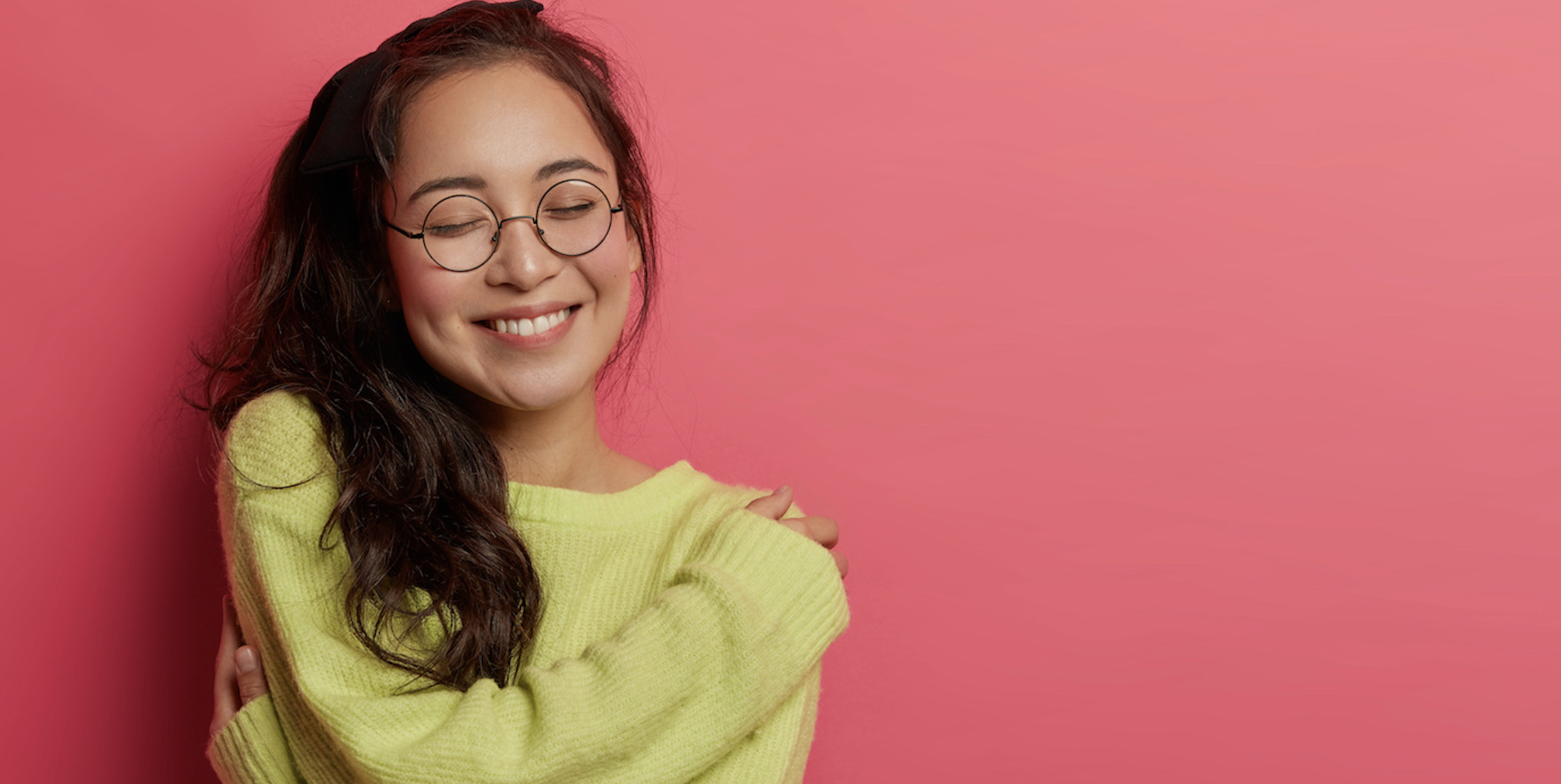 One of the hardest parts of becoming a parent was the pressure I put on myself to do things right – okay, perfect. 
It was hard enough not knowing what I was doing. But, then I'd beat myself up when things didn't go as planned, such as when our son was uncooperative in public or unwilling to nap at his usual time.
Being a mindfulness teacher with expertise in psychology and child-development didn't help matters, and was, unfortunately, only more fodder for self-judgment.
Navigate parenting with intention with our 7 Days of Mindful Parenting on-demand collection! 
You should know better.
Why can't you just stay calm?
Why are you so stressed?
The first few months – okay, maybe years – were pretty brutal from a self-judgment standpoint. 
In retrospect, I have compassion for both parts of myself: The one who was being criticized and the one who continually doled out criticism. 
My intentions weren't malicious. I was simply afraid: 
Afraid that I'd mess (him) up.
Afraid that I'd be judged.
Afraid that I'd lose control.
Teaching an Old Dog New Tricks
As I write this, I'm appreciating how far I've come in the self-love department over the years.
It wasn't an overnight, or effortless shift, by any means.
 But, little by little, it became more natural to respond with kindness when I faced a challenge.
Practicing self-love is a powerful skill! Nurture it by registering for an upcoming Mindful Daily.
About 6 months ago, we were in the middle of a stressful move to Maui, and I snapped at our son for spilling water all over the kitchen floor.
As I reflected on it afterward, instead of fixating on my mistake and beating myself up for losing patience (ergh, you're always so hard on him), I felt a nudge in the opposite direction: You're doing the best you can. You have a lot on your plate. Just let him know you're sorry and you care.
Patience is practice. Learn how to strengthen it with our Quick Relief on-demand episode!
Wait, what did I just say?
I'm still getting used to a gentler response!
Befriend Yourself
At a daylong silent retreat I led a few years ago, I wrote the word "Befriend" in boldface letters on the whiteboard. Then, I shared a story about the way my dear friend, Eleanor, lovingly befriends me when I'm stressed or down. With warmth, empathy, and a sprinkle of humor, she normalizes my fallibility as a human being and helps me take myself less seriously. 
When I practiced self-compassion over the years, I'd think of Eleanor. "What would Eleanor say," I'd wonder?
Sometimes her caring words were out of reach, but over time, her empathic tone and gentle hand-holding became my own.
Befriend Your Life 
An instrumental part of my growth in self-kindness arose out of an intention to experience more joy in my life.
As I became more curious about simple pleasures, such as the warmth of my teacup or coziness of my clothing, I felt more connected to a sense of inner goodness and worth. Simultaneously, I stopped badgering myself for making mistakes because I knew, deep down, I was worth more than the sum of my mistakes. And so are you.
Feeling a connection to your inner goodness and worth is at the core of responding to yourself with more self-love and self-understanding. 
Here are a Few Simple Practices to Help with Your own Self-love
Develop a closer relationship with things you like about your life – and yourself.

 

Don't force the latter. Noticing good things around you will indirectly deepen your sense of inner goodness. For example, as you nudge your attention toward beauty, and become more acquainted with good feelings in your body, you'll slowly and easefully begin to feel – and – appreciate your own goodness.

Make a point to be mindful of things you enjoy – and do well. For example, appreciate times you

acted with integrity

or made a sacrifice that was aligned with your values.

 

Be less fixated on day-to-day dramas and problems, and more mindful of simple pleasures, such as what you experience when you pet your dog, gaze at the clouds, or water your plants.
Discover presence in the moment right now, led live by one of our many expert teachers when you register for an upcoming Mindful Daily today. 
Notice when you're kind(er) to yourself. Register what it's like in your body when you give yourself the benefit of the doubt or take mistakes less personally. And, celebrate the heck out of it! 
Be curious about actions or people that inspire you. Appreciate what you see, and wonder about how this same potential exists inside of you.
As I parent two young children, I see over and over again how we come into the world with an innate capacity to be kind, curious and joyful. Kids aren't held back by mistakes. They simply see them as part of learning – and living.
 In so many ways, re-learning to befriend yourself and your life is about returning to your true nature.  
As Galway Kinnel said in "Saint Francis and the Sow,"
Though sometimes it is necessary
to reteach a thing its loveliness,
to put a hand on its brow
of the flower
and retell it in words and in touch
it is lovely
until it flowers again from within, of self-blessing.
Written by Breon Michel.