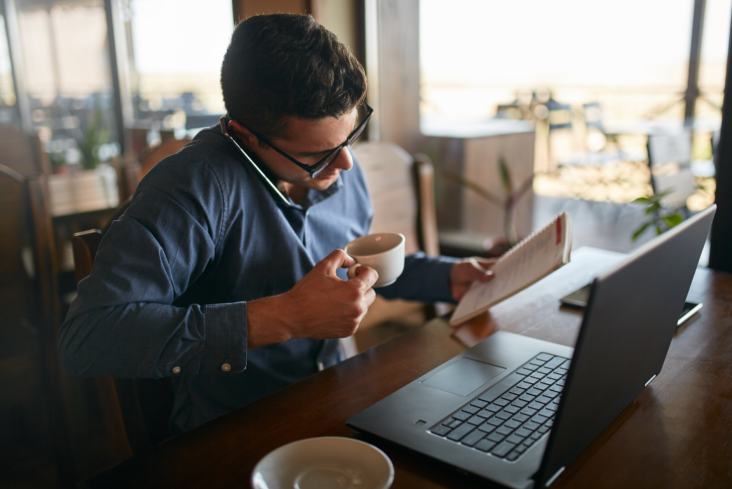 Oftentimes, technology gets pitted as a problem among people and professionals who care about well-being. 
Whether it's dubbed as a distraction from real life or an addictive habit, it's commonly regarded as something we must carefully regulate, monitor, and use.
While it's true that too much tech can hinder real-world connection – even lead to burnout – most people believe that, on the whole, technology is a good thing. Increasing productivity and access to information while strengthening relationships are a few benefits commonly cited in research.  
Learn how to stop burnout in its tracks with our Avoiding Burnout on-demand content! 
Regardless of which side(s) of the fence you find yourself, technology is here to stay. So, from that perspective, doesn't it make sense to harness the beneficial, enjoyable aspects for all they're worth?
Reaping the Benefits of Digital Connection
 Last week, I learned I had to have a tooth extracted. Since I already dread the dentist, it was a tough pill to swallow. I will say, however, that having my phone handy brought immediate relief to the situation. With just a few calls and texts, I was able to: a) arrange childcare, b) get a second opinion on the procedure, and c) share the news with my closest friends and family. 
Most comforting of all were the thoughtful texts I received the day of while waiting for the dentist to arrive.
Isn't it at least a little wondrous that such a tiny device has the power to instantly bring about greater ease and connection?
Create connection that magnifies results by registering for an upcoming Mindful Daily.
Take a moment to reflect for yourself. How has your device(s) supported you, or made your life easier life in the last few days? Can you take a moment to appreciate this?
Strategies to Build – or Sweeten – Online Connection
In general, I wonder how our relationship with technology – and each other – could blossom if we did a better job of harvesting, even elaborating on, the fruits of online interaction.   
Here are a Few Ideas for Embracing Technology Mindfully
    Slow down and make a real connection with your device. What do you notice? Do any pleasant sensations or images arise? Do you feel energized or excited? Take a moment to ride the wave of enjoyment, and once it crests, notice what happens next. Do you feel more connected to what you want to say or do?
    Discover what it's like to hold your phone when you receive a caring text from a friend or loved one. Can you elaborate the good feeling by hanging out with it for a few moments?
    Next time you lose yourself in an inspiring or funny article, share it with a friend or colleague to squeeze a little more learning or joy out of it. As they say, happiness shared is happiness squared.
    So you've wanted to say thank you to someone, but keep forgetting? It's never been easier! Take a few minutes to craft a digitized thank you note, underscoring things he/she does that usually go unnoticed. Relish in a feeling of connection and gratitude. You can spread gratitude and kindness on social media, too. Here's a

sweet example

. 
Social media can be overwhelming, but it doesn't have to be! Learn how to manage it with our 7 Days of Mindfully Managing Social Media on-demand collection! 
    Invite a partner or friend to take an online class with you, such as a

Mindful Daily session

. Who cares that she's at work or in another country while you're at home with the kids! Discover how you can enrich your relationship through a shared online experience.
    Take advantage of real-time voice messaging apps, such as Voxer, to share good news or not-so-good news with people you love. In either case, lean into the web of support that's always available to you.
    In search of a specific activity or like-minded community in your area? Peruse social media to find events that suit your interests and needs. Appreciate the many ways technology can bring friends – new and old – into your life.
However you choose to connect both on- and offline, may it enrich the health and vitality of your life and others.
Written by eM Life teacher Breon Michel.