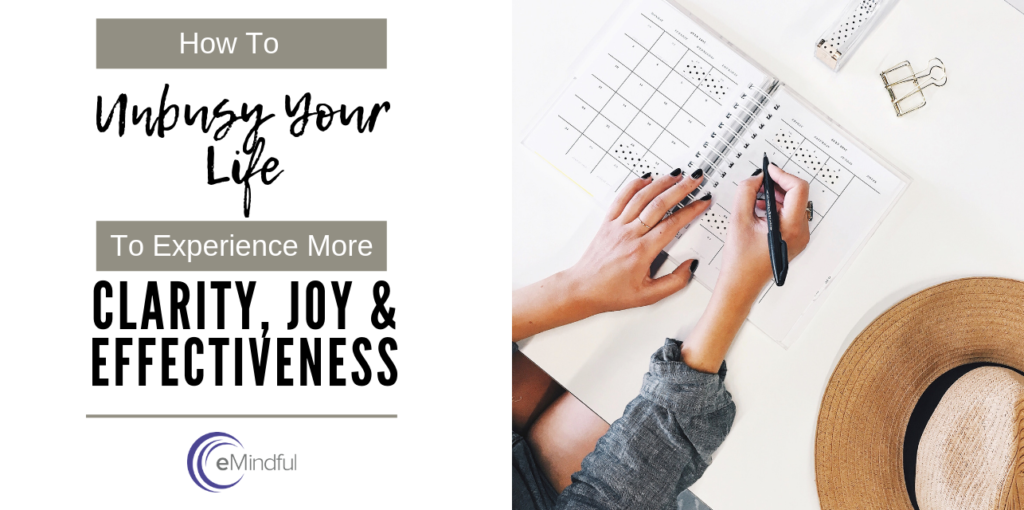 What would it be like to unbusy your life? For years I've been fantasizing about taking a hiatus from my busy life. It's not that I want to stop working and live on a tropical island for the rest of my days. But, I crave a change of pace from the "always urgent" work deadlines; scrambling to squeeze in long-overdue personal to-dos like my taxes and having that scary mole looked at; and the nagging stress that no matter how much I do it's never enough. 
Whenever I ask, "How are you?" the response is almost always "busy." Being busy has become the cultural badge of honor for "I'm important," "I matter," "I don't have time for you right now," all the while robbing us of mental clarity, connection to purpose, fulfilling relationships, and joy. But what's the secret to living in this "rise and grind" culture of do, do, do without getting caught up in it? What's required to make the unbusy fantasy a reality?
The Difference Between Being Productive and Busy
A few months ago I seized the opportunity to unbusy my life while making a career change. I gifted myself a three months break to reset and refocus on my bigger life priorities. I would Marie Kondo-style rid my life of the habit of always being on, responsive and optimistically thinking I can, and need to, do it all. I would finally have the time to intentionally focus on my career aspirations, relationships, wellbeing, and get back to what brings me joy.
But that didn't happen. A few weeks in I realized that, outside of my employment status, nothing had changed. My need to be productive, my desire to get the most out of every day, my need to please…they had all followed me into my precious three months. I was the same person, with the same busyness habits, filling up my days with the things of life – and my life priorities were still on hold. 
Practice mindfulness to declutter your life with Can Mindfulness Make You Less Messy?
It's not "wrong" to be productive. For most of us, we need to earn a living, take care of our families, and invest in our health. But when even when we have free time, we often fill it with things that aren't actually meaningful or important. We get caught up in the habit of busying ourselves with whatever comes our way and feeling a short-lived satisfaction of crossing things off the list, but ultimately leave us unfulfilled with no time protected for meaningful action toward our bigger priorities. 
Learning to live an un-busy, and priority driven life isn't as simple as having more free time. It requires greater self-awareness, clarity, commitment and self-compassion.
Create a Discipline of Un-busyness with These Four Tips
1. Identify Your Life priorities
Start with 3 priorities for your life that you can work toward now. It can be helpful to explore this at the end of your meditation practice, after you mind has settled and you feel connected to your body.  Ask yourself, "What matters most to me in my life?" Perhaps it's relationships, health, meaningful work, or spirituality. Without the distractions of a busy mind, what we truly care becomes clearer.
2.  Ask, How Will I Focus on My Priorities Today?
Ask yourself, "What can I do today to focus on my priorities?" Often, what we can do is more about the way we are being – the attitude we have, and the way we relate to ourselves, as we focus on priorities and challenges to them.
Focus on what's important today with 4 Easy Ways to Live in the Now.
3. Decide What You Will Say "No" to?
Ask yourself, "What are the ways that I fill time that crowd out my priorities, I later regret, or that make me tired with little payoff? What will I commit to not doing today in order to break the busyness habit?" Commitments like not immediately reaching for your phone whenever you have a free moment alone may help you feel less busy, and keeping your mind clear and focused.
4. Practice Self-compassion
Breaking the impulse to constantly check messages, reading yet another news article on the same topic, or whatever perpetuates your busyness habit can feel awkward, uncomfortable and anxiety provoking. Offering self-compassion helps us stay on track when it feels hard to not be busy.
Self-compassion combines both a sense of kindness for how challenging it can be, along with the discipline to follow through with your commitment. A simple practice is to say to yourself, "I offer myself kindness and care as I feel this pain (anxiousness, boredom, loneliness…) and I remember what matters most to me (my bigger priorities).
Breaking the busy habit, rather than fantasizing about it, will likely be a lifelong practice for me. But, now, instead of saying "busy" when someone asks how I'm doing, I let the question be a reminder of what matters most to me and an invitation to focus on meaningful action toward those priorities. 
Learn the Skills to Manage Your Busy Day and Stress with eM Life's Stress Less, Live More Program
If you would like to unbusy your life, live your priorities, and find more peace, clarity and joy in your everyday, check out our Stress Less, Live More program today and get 20% off when you use code EMBLOG.

About the Author
With a background in psychology, coaching and mindfulness, Jennifer brings over 20 years of experience in training individuals, teams and organizations to thrive in complex circumstances and environments. Jennifer's interests in mindfulness have been influenced by previous roles focusing on the intersection between wellbeing, performance and resilience at Duke University Health Systems and as the Director of Curriculum and Delivery at eMindful. She is currently living in Singapore and is the Director of Personal and Professional Leadership at Duke-National University of Singapore Medical School.