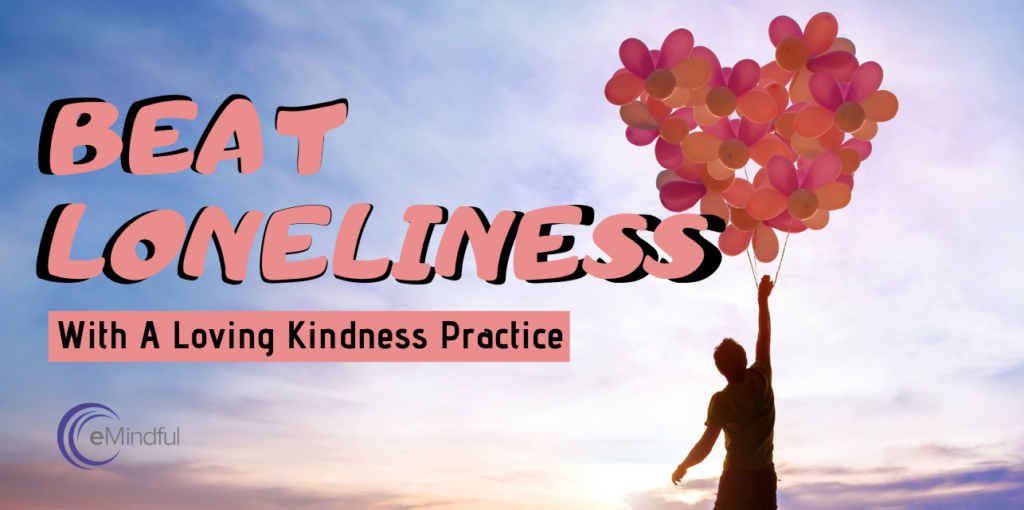 How to Soothe Loneliness with Loving Kindness
By Mindfulness Teacher Kelly Barron
We're living in contradictory times. Thanks to technology, we've never been more socially connected. And yet, despite our constant digital contact, loneliness has become an epidemic. Instead of feeling a loving kindness for the time we have to reflect, we feel isolated.
Plenty of us feel blue at times. In small doses, loneliness — like hunger — serves as an evolutionary prompt to fulfill a need – in this case for social connection. But there's more and more evidence that culturally loneliness is becoming less of a fleeting phase that motivates us to grab dinner with a friend and more of a chronic state that poses serious health risks.
Nearly half of Americans now say they sometimes or always feel left out, according to a survey of 20,000 people last year from healthcare provider Cigna. Even more troubling, is that more than half of people surveyed said that no one knows them well. It's not just happening in the U.S. After launching a governmental program last year to combat the phenomena and appointing a rather forlornly named Minister for Loneliness, the U.K.'s Prime Minister Theresa May said that loneliness is the greatest health challenge of our time.
To be clear, loneliness isn't about being alone. Just ask any introvert who loves to whittle away the hours reading a good book or going for a hike alone. Solitude can be a salve even for extroverts who need to recharge. 
Loneliness, in contrast, descends when we feel rejected, empty and alienated from others. It's a complex state of mind that can lead to debilitating emotions such as depression and health issues such as an increased risk for heart attacks, strokes and cancer. According to a study by Brigham Young University, loneliness is on par with obesity and smoking in shortening life expectancy.
Why are We Feeling so Alone?
There's no single answer. More of us are getting married later. More of us work alone as part of the "gig" economy. Many organizations that once fostered meaningful bonds between us – churches, civic groups, bowling leagues- are no longer as prominent in our lives. And while social media connects us, it also can disconnect us, leading us to feel isolated as we scroll through photos of friends we're not with and events we're not attending.
There are many ways to cope with loneliness, including discussing the issue with a trained professional. Small behavioral changes such as striking up conversations with people we encounter throughout the day can help us feel more connected.  Investing in relationships and spending time with existing friends and family as well as creating opportunities to make new friends by pursuing hobbies through classes or Meetup groups helps, too.
How a Loving Kindness Practice Can Help
The late University of Chicago psychologist and loneliness expert John Cacioppo said encouraging lonely people to change their perceptions of others by entering into reciprocal relationships through volunteering is helpful. So, too, is simply being kind to others, he said. The idea that changing our perceptions of others and being kind can relieve loneliness led me think of how the mindfulness practice of loving-kindness also could help ease the sense of isolation loneliness creates.
The purpose of loving-kindness practice, which entails visualizing people in your mind's eye and silently sending them phrases of goodwill, is designed to make us feel more connected and less alienated from others. Research shows seven weeks of loving kindness practice increases positive emotions such as hope, love, joy, interest and awe while reducing negative emotions. Experiencing more positive emotions protects us against despair if not entirely against loneliness.
The wonderful thing about mindfulness, though, is that you don't have to take anyone's word for it. Experiment with loving kindness practice on your own. Give it some time and notice how the practice makes you feel. Do you find yourself connecting with others more readily in your daily life? Do you feel kinder toward others? Less lonely?
How to Start a Loving Kindness Meditation
Below are instructions for a simple loving kindness practice that you can do as a stand-alone exercise or before or after mindfulness practice. Often, I do loving kindness practice spontaneously, offering it to those I pass by on the street, see in the store or drive by on the freeway. It's not important you feel anything as you do the practice. The intention is to plant the seeds of kindness and nurture them so that they can grow in your daily life.
Find a comfortable chair to sit in. Take a few purposeful breaths. As your breathing settles into its natural rhythm, feel the rising and falling of your breathing in your chest and connect to your heart. If you like, you can even place your hand on your heart.

Call to mind an image of someone you love. It's helpful if your relationship with this person is uncomplicated and easy. You can even call to mind a beloved pet. Silently recite the phrases: May you be happy. May you be healthy. May you be safe. May you be peaceful. Imagine the person or being you've called to mind receiving your good wishes.

Next, call to mind someone you don't know well but might see in the course of your day – a store clerk or a delivery person. Connect again with the sensations of your breathing in your chest and silently extend the phrases to them: May you be happy. May you be healthy. May you be safe. May you be peaceful and at ease.

You can continue to offer loving kindness to others who come to mind and also to yourself.
Because the causes of loneliness are multifaceted, the remedies will likely be as well. But loving-kindness is one way we can feel more connected to others and, hopefully, a little less lonely as well.
About the Author
Kelly Barron. M.A., is a certified mindfulness facilitator at UCLA and writer. She teaches mindfulness for UCLA's Mindfulness Research Center as well as for corporations, schools and private groups. Kelly has worked as a mindfulness teacher with eM Life since 2016. She came to learn the value of mindfulness as a deadline-driven journalist. Now, she's passionate about sharing mindfulness with others to help them live with more ease, clarity and joy. You can learn more about Kelly and read her blog at www.kellybarron.com.