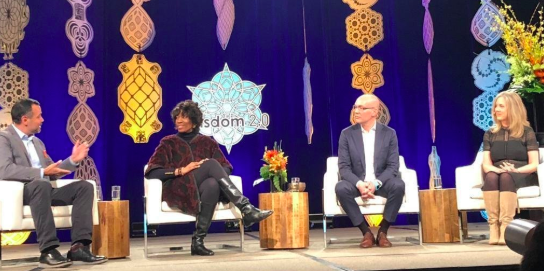 Written by Cheryl Jones, Director of Mindfulness at for Aetna.
This article originally appeared on LinkedIn.
I just returned from the Wisdom 2.0 conference in San Francisco where I had the honor of being part of a panel discussion called, "Chief Mindfulness Officers in Organizations". I was invited because even though my official title is Director of Mindfulness, I have been leading our mindfulness initiatives at Aetna since the start of our 10-year journey. Rich Fernandez, our panel host, and CEO of the Search Inside Yourself Leadership Institute was interested in bringing my perspective forward. Our panel also included Peter Bostelmann, Director, SAP Global Mindfulness Practice and Jenee Johnson, San Francisco Department of Public Health, Mindfulness, Trauma, and Racial Equity.
I am part of a three-person mindfulness team at Aetna, a CVS Health Company, dedicated to serving our colleagues, customers, and communities. Meditation is becoming a staple in the workplace and mindfulness programs are an important component of an employee benefits package. Why? Because mindfulness creates empathy, improves effectiveness, and increases engagement. It also reduces medical costs, which positively impacts the bottom line.
Mindfulness is paying attention to your present moment experience with an attitude of openness and curiosity. Meditation is what we do to strengthen our ability to be present in the moments of our lives. Like lifting weights improves physical fitness, meditation improves mental fitness. Mindfulness meditation is an awareness practice where we tune in to the breath, thoughts, feelings, sensations, and surroundings. Mindfulness does not involve visualization, concentration, or any particular breathing technique.
Drawing upon our training as MBSR (Mindfulness-Based Stress Reduction) teachers, Andy Lee and I have developed and implemented a mindfulness strategy. This means that we base our programs and communications on the principles and practices of MBSR. This enables us to set clear boundaries between mindfulness and other stress management or well-being activities. For example, while happiness and gratitude practices are popular, they are not mindfulness. So as not to confuse people, these types of practices should be offered under the well-being umbrella.
Our employee population is diverse and people do all kinds of jobs at our company – technology, clinical, customer service, sales, product design, legal, and marketing to name a few. In order to make mindfulness accessible to everyone, we must provide a variety of ways for people to engage. One size does not fit all. We develop our own mindfulness videos, audio practices, work tips, and articles. In order to meet people where they are, our mindfulness practices range from one minute to 15 minutes.
We offer in person and virtual mindfulness meditation sessions. We teach a 90-minute introductory course in partnership with our talent development area. We deliver mindfulness presentations to teams across the enterprise. We develop mindful work tips for those not interested in meditating. To make mindfulness relevant and local, we created a mindfulness advocate program. We send a monthly newsletter featuring stories from colleagues who practice mindfulness. We also offer programs delivered by our vendor partner eMindful.
All of our mindfulness programs, tools, and resources live on our company intranet site. We've worked hard to develop a particular language that fits our workplace culture. We are constantly developing and reviewing content so that mindfulness is communicated consistently across the enterprise both internally and externally.
Being a Director of Mindfulness or a Chief Mindfulness Officer requires both patience and perseverance. My mindfulness practice has helped me develop the resilience and clarity to lead a mindfulness strategy in a company that now has 450,000 employees. Rather than waking up every day feeling like I'm trying to boil the ocean, I can break it down to the immediate priorities of the day that will help us advance our strategy.
I hope this article helps as you consider how to bring mindfulness to your organization in a manner which holds integrity and is sustainable.