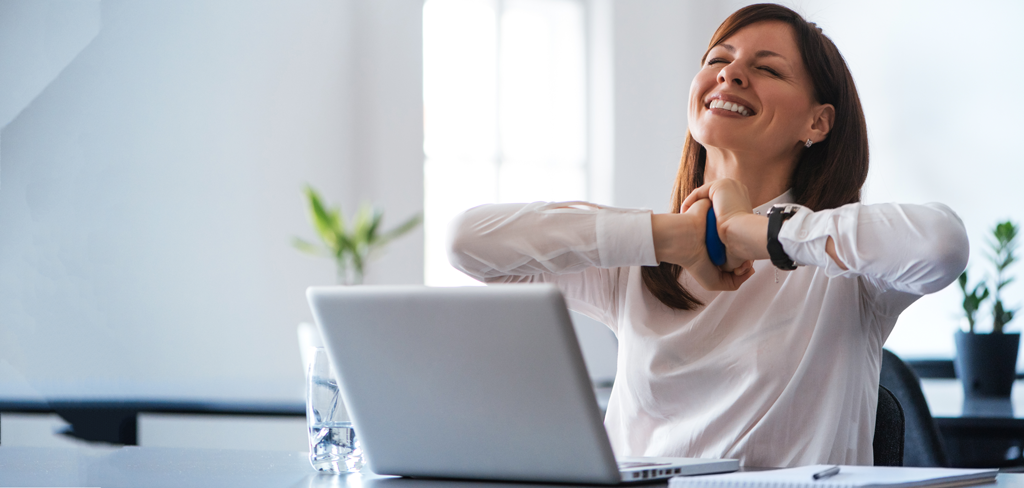 By eM Life Director of Curriculum, Denise Shields
As my boss handed me another assignment, I had a sinking feeling in my chest. I dreaded doing more work that felt mechanical to me. I wanted to feel inspired and to contribute toward something meaningful. I knew I needed to make a change but the idea of looking for another job felt overwhelming and scary. How would I begin? What if the grass wasn't any greener on the other side of the fence?
There's no doubt that finding a job that aligns with our passions is a journey full of challenges and opportunities to learn and grow. With Mindfulness, we pause and notice what we are thinking and feeling. We discover what's important to us and learn from what we are experiencing. And, we can learn to care for ourselves in a way that will help us through the ups and downs as we seek our dream job and true calling.
Mindfulness starts with taking a brief pause from doing and focusing attention on the breath.
This practice brings us to the present moment and helps us begin to notice what's happening within us and around us. Often, we'll discover self-talk that's not helping us. Or, we uncover emotions we've pushed aside, not knowing that paying attention to our feelings can bring us further insight. Finally, when we create space to be with our experience, we can care for ourselves in a kind and loving manner.
So I paused, took a few conscious breaths and brought my attention to the heaviness in my chest. Gradually I became aware of my frustration with having to spend time on projects that were neither meaningful nor satisfying to me. I felt sad that I was not doing work I really cared about. As I sat quietly and reflected, I realized my fear of the unknown was holding me back from finding a role where I could contribute in a truly meaningful way. I stayed with this experience and acknowledged how difficult it was for me, much like I would offer understanding to a loved one.
With Mindfulness we can also become more aware of our values, interests, and motivations. We learn what most inspires and energizes us. With this insight, we can create a vision that aligns with how we want to contribute our talents and expertise. This vision then becomes the beacon that can guide us on our journey.


Here's how to create your vision:
1. Sit quietly, close your eyes and take a few conscious breaths.
2. Ask yourself what you truly care about? What do you find inspiring or exciting? How do you want to express this? What will you be doing and how will you be feeling?
3. Listen deeply and note what comes to mind.
4. Write a 1-2 sentence statement describing what you envision for yourself.
---
When I asked myself what I truly cared about, it became clear that I wanted to help others be healthier and happier. I envisioned myself sharing Mindfulness practice with individuals seeking to improve their health and well-being. I knew I wanted to feel part of something larger than myself. With this clarity, I felt energized and ready to continue my job search.
Finding your dream job and true calling can be a journey full of highs and lows.
As I began to network and apply for jobs in earnest, I felt like I was on a roller coaster. I was excited about one opportunity for days on end, only to find my hopes dashed when I didn't advance to the second interview. I found myself wanting to hold onto the positive experiences and resisting the difficult ones.
Mindfulness helps us learn to accept that our journey will include ups and downs. This is how life is. We may encounter stops and starts and find our emotions range from excitement to fear and disappointment, to name a few. When we can take a pause and bring our attention to the breath and how we are feeling in the moment, we begin to honor our experience and accept what the present moment offers.
As I slowed down and allowed myself to be with my disappointment, I was able to experience and acknowledge the discontent. Then, as I reconnected with my vision, I began to relax and trust the process.
A regular practice of Mindfulness helps us to recover from the difficulties and feel confident and empowered to move forward. It's about taking time to be with oneself on a regular basis. You might consider setting aside a few moments each morning to focus on the breath, perhaps while stretching, or sitting outside in nature. Noting what you are thinking and feeling can help you stay connected to your vision.
When we learn to be present in the moment, we begin to enjoy the journey to our dream job and true calling.
eM Life is an online live resource you can use to develop and support your mindfulness practice. Take a Mindful Daily and interact with expert instructors and students from all around the world, all working towards the same goal of a happy, rewarding life.
About the Author
Denise recently joined eMindful as Director of Curriculum Development and Delivery with 30 years of experience leading efforts in wellness, coaching, leadership development, client account management and customer service. She has engaged in her own mindfulness practice since 2004, including daily sitting meditation and time walking in nature, and is currently enrolled in a 2-year Mindfulness Meditation Teacher Certification Program with Jack Kornfield and Tara Brach. Denise holds a Ph.D. in Leadership, a Master's degree in Organizational Communication and is a certified coach through International Coach Federation (ICF).
---
Read more on how Mindfulness can help you tune in and live a more mindful life: