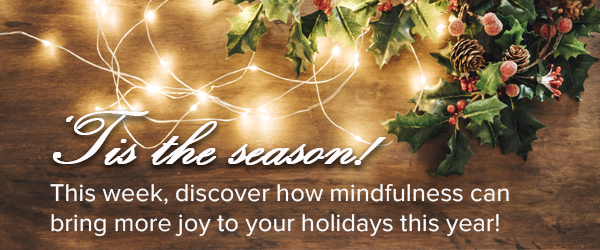 Written by Elaine Smookler, RP. Faculty, Centre for Mindfulness Studies. Columnist- "Inner Wisdom" Mindful Magazine , Faculty, eMindful
What's on your picture-perfect holiday list? Ice skating, travelling to be with those you love, tables laden with foods that delight, gifts for family, friends, and for that holiday white elephant exchange at work? The holidays can be a candy-mountain of happiness, reflection and connection. But when perfectionistic desires take over, we can get so engrossed in making our lists and checking them twice, that we lose sight of what we desire most during this time of year. This can leave us with an overwhelming list of things to do and expectations of a perfect holiday that can't possibly be met.
This holiday season invite yourself to mindfully ride the wave of temptation to fill every second with eating, seeing and doing, and reflect on how "less (doing) is more" might bring you greater joy of the season.
Practicing mindfulness and learning to be more present, can help you pause that perfectionist desire and pressure that crowds out what you want most. This powerful pause-ability enables you to reconnect to what matters most right now. Just last week, I found myself very excited about some extravagantly festive meal that I saw on the food channel.  I thought it might be a lot of fun to introduce everyone to a magnificent twelve-course fooderama! When I took a mindful moment to take a nice deep breath, pause and reflect, I saw that I was bringing so much attention to creating a food show, I was at risk of running the holidays like a military operation in order to get it all done!  Let the reconnection to the mindful moment begin!
Practice these mindful tips to help you glide through the season and enjoy it all!
Less is More – Overdoing can have a snowball effect and wipe you out. Even too much fun is too much. Stress will often show up in the body first. Before saying yes to one more thing, take a moment to tune into your body. Notice what's happening. Do you have a sense of joy and peace? Or is there tension and anxious plotting for how to squeeze in more? Ask yourself if the self-imposed stress is truly in the spirit of what you're wanting most this holiday season? And is there another possibility that feels more peaceful and energizing?
Don't Buy Into Billboards! – Be mindful of the effects of advertising when emotions are running high, time is tight, and you feel pressured to spend. Advertisements can touch on our insecurities like "Will they feel more loved if they find my exhausted body lying on the couch with a Christmas tree surrounded by a gazillion beautifully wrapped gifts?" Or, "Will I be closer to a promotion or higher self-esteem if I overspend on my boss's gift?" Generosity is a beautiful thing, but over-giving of our time, energy and finances, can strip away the deeper meaning that brings us together. Before pulling out your wallet take a mindful breath. Ask what is at stake for you by not succumbing to the advertising? Your sense of self-worth, relationship, identity or success? Offer yourself compassion for these very human insecurities – You are not alone! Connect back to what matters most to you about giving. Bringing awareness to the right kind of generosity promotes giving without adding harmful pressure to yourself and others.
Meaningful Connection – No matter how much time or money you spend, positive memories will most likely arise out of emotional giving. This year, create personal strategies to enhance your connection by being present with others, no matter how busy you're feeling. The next time you are with a family member, friend or colleague, make a point to fully pause what you are doing – even for just one breath. Look up from your phone, hear the sound of their voice, and notice what it is like to give the gift of your full attention for this moment.
Mindful Eating – Festive foods can be a catalyst to the awakening of the senses. Practice mindful eating! Set the intention to savor each bite.  Appreciate the tender loving care that went into bringing you this food.  Be kind to yourself by managing quantities as you check your hunger and fullness levels. Fully enjoy each delicious mouthful before you reach for the next bite.  Savoring is much more satisfying than simply trying to cram in more, more, more.  Once again, less is more.
When you are making that perfect holiday list and checking it twice, add "being present" to the top. With greater presence, you'll be more connected to what is truly important to you, and to those you love, this holiday season.
This week, your friends at eMindful will be there to guide you in ways to help you feel more present, joyful, connected and feeling a lot less stressed this holiday season. Please do come and practice with us during our live Mindful Daily sessions.
Happy Holidays, everyone!
Elaine Smookler is an eMindful instructor and registered psychotherapist, with a 20 year mindfulness practice.