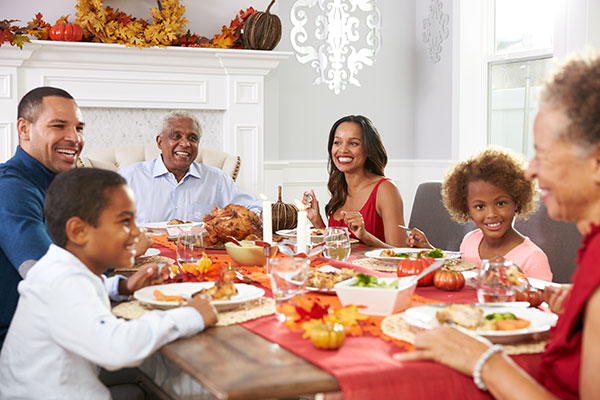 Many of us have been dreaming of pumpkin pie, green bean casserole, turkey, and all of the trimmings for weeks. But with this much-anticipated holiday also comes the potential for overeating and the guilt experienced afterward.
Eating mindfully during Thanksgiving can not only help you achieve a comfortable level of fullness, but it can also bring new levels of awareness and gratitude that help you enjoy the celebration in brand new ways. Here are a few tips to guide you:
1. Start with a Good Breakfast
It's a common habit for people to "save up" for the Thanksgiving meal by not eating breakfast in the morning. It is a common misconception that skipping breakfast helps balance out all the eating you'll be doing during the holiday meal, so you won't gain weight.
In reality, coming to the Thanksgiving table with a high level of hunger will most likely cause you to eat quickly and in large amounts. Planning for a satisfying breakfast in the morning can help you make more conscious choices when faced with the array of holiday entrees, sides, and desserts.
2. Prepare/Observe the Table
Whether you're hosting, have been invited to, or are partaking in a virtual family Thanksgiving this year, preparing the table reminds us that this is a special event. While many regular meals during the year are hurried or on-the-go, Thanksgiving is a time to take the finest plates and cutlery out of the cupboards, and to take special care with traditional family recipes.
If you're playing host, notice the intentionality and placement of the settings and food and remember that this is a time to enjoy and lean into the present moment. If you're at another's table, ask about the significance of the dishes and food – learning the stories of each can turn the meal into an experience and not just a time to eat.
3. Bring Awareness to Your Five Senses
Time can seem like it's sped up during the holidays, especially during the stress of planning a safe meal during the pandemic. But staying in the present moment can help you slow down and truly enjoy the experience.
Use your senses to smell the pies baking or turkey roasting, hear the clatter of dishes and people around you, see your loved ones either in-person or virtually, touch the textures of your plate and silverware, and taste the first bite of your favorite Thanksgiving dish. When you slow down your mind to savor these moments rather than rushing through the meal, your body also recognizes that it's not in a hurry and can feel more at ease as you eat.
4. Find Gratitude in the Family Meal
It's in the name, but making time for the "thanks" part of Thanksgiving can become an important tradition for the family table if it isn't already. Expressing gratitude for whoever made the meal, brought food, and traveled to be part of the day are just a few examples of how to incorporate gratitude into this day of thankfulness.
To take your gratitude to the next level consider the truck drivers, farmers, grocery store workers, grocery delivery workers, and others who all played a part in making the food possible for you and your family to enjoy. A mindset of gratitude can also help you slow down and savor your meal.
5. Practice Small Bites and Portion Control
Once the Thanksgiving meal starts, it's easy to start heaping piles of different foods onto your plate and taking large, excited bites. Using mindful eating during the food selection process, practice taking smaller amounts of food so you can still taste all of the delicious varieties without taking more than you need to feel full.
As you begin to eat, take small bites and notice the flavors, textures, and emotions that come up. Is it a familiar dish that you and your family have every year or did you switch up the Thanksgiving spread this year? Bringing more awareness to each bite slows down your eating rate, allowing you to fully immerse yourself in the experience and more easily feel your body's signals when you're full.
6. Check in with Yourself Throughout the Meal
When we eat quickly we're not as connected to our bodies, and we don't always pick up on signals that we're full. During a holiday meal with a spread of delicious foods, it's also common to ignore those signals of fullness in favor of one more piece of pumpkin pie or one more dinner roll.
If your hunger is a scale of 1 to 10 with 1 being starving and 10 being full to the point where you can't take another bite, try to stay comfortably in the middle. This helps you continue to enjoy the food without discomfort and can also help you properly digest throughout the day. Eat until you are satisfied in the moment, and try to only go back for seconds if you still feel hungry.
7. Practice Mindful Eating with Guided Programs
Like all mindfulness skills, mindful eating takes practice. Participating in a live or on-demand program led by eM Life's mindfulness experts can reinforce your mindfulness foundation and help you incorporate mindful eating into your daily life before the holidays.
Check out programs such as:
It's not easy to break free from old eating habits, especially during this time of year, but incorporating mindful eating into your festivities can be the new tradition that helps you fully enjoy, savor, and feel gratitude for this beloved holiday.
Written by Becky Greiner